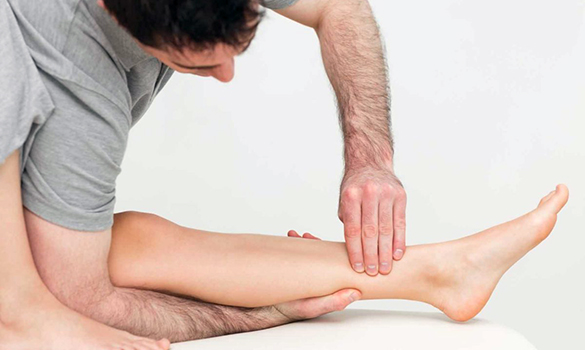 Osteopathy
Osteopathy could be described in simple, lay terms as "holistic manual medicine". Osteopathy is a system of health care that focuses on diagnosis and treatment of the physical body's structure in order to optimize physiological functioning... Manual palpation and Osteopathic Manipulative Therapy (OMT) are used in conjunction with biomechanical, orthopedic and neurological clinical assessment. Osteopathy is best known for treatment of neuro-muscle-skeletal disorders such as back and neck pain, sciatica, sporting injuries and postural strain. Put simply, optimizing structural balance allows the physiology to perform optimally. Osteopathic manual practitioners assess and treat the whole person, not just the symptomatic region. So for example, if a patient presents with a headache they will be structurally assessed from head to toe. This is because the primary cause may be remote from the symptoms. For example: Unilateral pes planus (flat feet) > functional leg length discrepancy > pelvic torsion > scoliosis > cardiogenic tension headache.
An osteopath's role lies in diagnosing and treating the factors that inhibit health thus restoring balance in the body through natural, non-invasive, hands-on techniques. However, the use of osteopathy is not always based on science, and there is evidence that osteopathy is effective in treating any medical condition such as: Back pain Disk herniation, Neck pain, Shoulder pain, Epicondylitis (tennis elbow& golf elbow), Headache, Migraine or tension, Hip pain, Sciatica, Knee pain , Plantar fasciitis and ankle pain Osteopathy offers a range of manual osteopathic treatment include massage, stretching and therapeutic exercise, myofascial release, muscle energy and joint mobilization tecniques. Balance in the skeletal frame is achieved by a combination of one or more of them. Techniques are tailored to the individual according to safety, efficacy, patient preference and presenting complaint.
Who can benefit from Osteopathy Treatment?
Osteopathy is effective for people of all ages, from infants to the elderly. It offers an approach with gentle non-invasive techniques. Osteopathy is equally beneficial to athletes (whether professional or amateur), individuals with problems stemming from a sedentary job or life style, those exposed to occupational hazards, and to people suffering from a wide range of traumas. Osteopathy customizes treatments for each individual according to his or her age, physical characteristics and specific reactions to treatments.