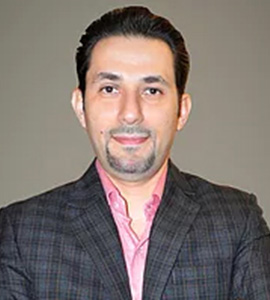 Registered Physiotherapist (PT) Professor of physiotherapy at IUMS.More than 10 years of experience in teaching and doing research in musculoskeletal disorders
[ Physiotherapist (PT) ]
Amir Ahmadi Associate professor of physiotherapy at IUMS. Amir Ahmadi has more than 10 years of experience in teaching and doing research in musculoskeletal disorders. He has published almost 20 international articles as well as three books on musculoskeletal disorders.
His research interests are musculoskeletal disorders such as; spine injuries, spine kinematics, sports injuries, diagnostic imaging, myofascial trigger points, and low back pain. His teaching interests are physiotherapy in musculoskeletal disorders, musculoskeletal imaging, physiotherapy in sports injuries, research methodology, exercise therapy, medical information systems, manual therapy.
He initiated his profession as a physiotherapist in 2003 after graduating from BSc. of physiotherapy and was also involved with teaching in 2009 after graduating from Ph.D.